RESTAURANT REVIEW
Excerpted from The Daily Raider.
This week we stopped in at Minna Cocina, a small but up-and-coming eatery gaining a strong following in the greater McMurdo area. It's certainly off the beaten track, but well worth the drive. In fact, some guests fly in just for the chance to sample the day's offerings. However, we recommend the drive. It takes several days, but the expansive rural views and near-total white surroundings help to purge your mind of nearly all cognitive thought, so that by the time you arrive you are only semi-conscious and focused entirely on food.
Once you arrive in the Minna Bluff area, you may have a hard time finding this restaurant, so a few tips are in order. The neighborhood is described as "a little rough", dotted with decrepit old shacks and an assortment of odd vehicles. Despite the industrial feel, don't let the peeling paint and rusty exteriors dissuade you. If you happen upon one of the local residents occasionally seen darting from one structure to another, despite their grizzled outward appearance they will be happy to direct you to your goal.
Look for an unmarked blue door — that is the entry to a cozy new world of culinary delights. The entryway offers refuge from the blinding light outside, and you are met with a faintly familiar sweet fragrance reminiscent of your last tropical island getaway. Once inside, a cheerful decor of neuvelle-les-hodge-podge awaits you, with a mix of traditional red and white checkered tablecloths, artfully hung sparkling lights, and retro metal folding chairs, all brightly lit by skylights blended into a sensuous, art deco archway. Most of the electrical fixtures are nearly to code.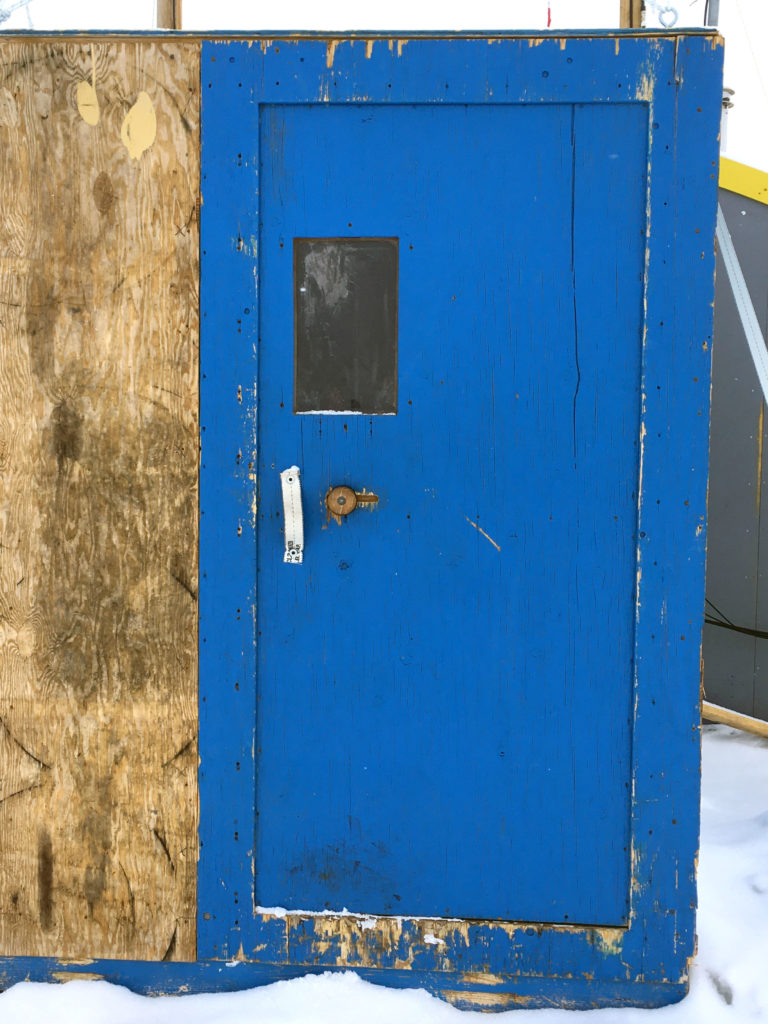 The fare at Minna Cocina is best described as hinterland fusion. Elements borrowed from Asian, Mexican, Irish, Italian and traditional American themes are recombined in new and exciting, sometimes mysterious, concepts. The food caters to a wide range of culinary palettes and frequently surprises. Favorites during our visit included ramen with pork and Colorado chili. Protein is emphasized.
Although conscious of current trends, the chefs here show courageous willingness to buck modern norms. We were pleased, for example, that portions here are ample and second helpings are encouraged. Also, in contrast to recent emphasis on local sourcing of ingredients seen in many lesser establishments, Minna Cocina draws far and wide from an extensive food distribution system, which guarantees access to all of the latest canned, dehydrated, and frozen foods.
The staff at Minna Cocina are warm and hospitable, with an eye to making each of their guests feel welcome and appreciated. In fact, the open-style floor plan brings the kitchen right into the seating area, allowing guests to take in the savory aromas, listen to the busy clank of implements on stainless, and observe the steady but unhurried flow of culinary art in the making. Often the chef mingles casually with contented customers, an egalitarian approach that pervades all aspects of the dining experience. Compared to larger, media-savvy dining rooms in the metropolitan heart of the region, Minna Cocina is not pretentious. One may spy a VIP here on occasion, but the restaurant caters mostly to the local hoi palloi and often provides hot meals to regulars in exchange for dish washing.
Food is served from a prix fixe menu chosen each day by the chef du jour. The menu is quite varied and unpredictable, so be prepared for anything. Meals are often plated in a simple format on beige melamine (bowls optional) and service is family style. Seating is limited, so be sure to book well ahead. Attire is badly-patched to grease-stained. Gluten free and vegetarian options are provided.
All things considered, Minna Cocina is a gastronomic wonder and well worth the diversion from your daily routine. The Daily Raider recommends that you indulge yourself and become a regular patron.
Atmosphere ★★★★★
Service yes
Food $
Photo by John Goodge.
The views expressed here are personal reflections that do not represent either the RAID project or the National Science Foundation.